Business Dinner Etiquette: The Dos and Don'ts of Dining with Colleagues
Business dinners are ideal means of interacting with associates outside the office environment. Though plenty of opportunity for showing off a well-balanced blend of professional and social skills awaits in such a setting, lacking in either could result in disaster. No doubt your business sense can hold its own, but understanding the conventional dos and don'ts of business dinner etiquette could make all the difference. If you keep these things in mind, you will be able to successfully conclude your business dealings.
First Things First
Entrances tend to set the stage for the entire event. Although a number of people prefer to blend quietly into their surroundings rather than make themselves known, the first order of business is to shake hands with everyone at the table. Introduce yourself to those whose acquaintances you've not yet made. From there, the next few elements are largely a matter of watching the host or hostess.
Don't sit until the host or hostess has been seated.
Napkins should be placed on your lap but only after the host or hostess has done the same.
Discreetly try to overhear his or her order, and choose something similarly priced for yourself. Alternatively, ask the host or hostess for recommendations.
Along those same lines, don't order an appetizer, cocktails, and dessert if your host asks for nothing more than iced tea and a hearty salad.
Simple, polite greetings, introductions, and following the host or hostess' lead should get you through the first portion of the experience nicely. Having said that, quite a few other rules apply in a scenario like this.
Pay Attention to What's in Front of You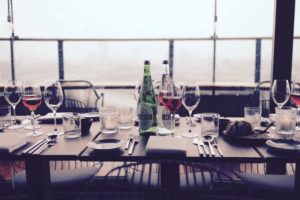 Dinner at home isn't generally a formal affair. A plate, spoon, fork, napkin, and drink are all you need to achieve dining success. When in an upscale establishment, though, a few extra pieces work their way into the puzzle and can cause considerable confusion. In general, formal place settings include, from left to right:
Salad Fork
Dinner Fork
Dinner Plate
Dinner Knife
Salad Knife
Soup Spoon
Bread plates and butter knives appear on the left above the forks, and water and wine glasses sit to the right above the knives and spoon. If there are a spoon and fork above your plate, they're reserved for dessert.
Remembering which piece of flatware serves what purpose can be tricky, but you basically start from the outside edges for salads and appetizers. Work your way inward for the main course. Keep the bread plate and glasses in their respective places to cut down on mix-ups with those seated next to you.
Moving Further along
Since the host or hostess can't be your guiding light for the duration of the event, having your own level of savvy goes a long way toward making a great impression. This is where the matter gets a bit more involved.
Should others arrive at the table after you've been seated, stand to greet them.
Don't pull out guests' chairs for them. This is a nice gesture on a dinner date, but it's not the norm in a business setting.
While asking the server a few questions regarding the menu is acceptable, requesting long explanations about several of the available options leaves everyone at the table waiting and has been known to generate animosity among dinner acquaintances and waitstaff alike.
Break off bite-size pieces of bread and butter each individually.
Cut one or two bites of food at a time rather than carving up an entire steak or chicken cutlet in a single session. Cutting salad and pasta into manageable bites helps foster politeness as well.
When talking with others around the table, place silverware on your plate rather than slinging it around. Also be sure to swallow the food in your mouth before speaking.
Should conversation turn to religion, politics, or other potentially heated topics, politely opt out of the discussion or offer a brief, neutral response if addressed directly.
If a sneeze or cough arises during the meal, turn toward your left shoulder and block it with your left hand. Keep in mind, napkins and tissues aren't interchangeable during a business dinner.
In the event you need to excuse yourself from the table for a moment, there's no need to provide an explanation. Simply place your napkin on your seat and push it under the table.
Avoid asking for a take-home box if you don't finish your food.
Convention dictates the host or hostess is responsible for both the check and the tip, so don't argue when time to pay comes around.
Be sure to thank your host or hostess for the meal.
You have ample personal and professional knowledge to bring to the table. Combining these attributes with proper business dinner etiquette is the key to successfully interacting with colleagues in a slightly more personal setting. Keep these aspects in mind during your next business dinner, and you're bound to make a good impression.
https://www.docurex.com/en/wp-content/uploads/2017/10/Business_Dinner_Etiquette.jpg
426
640
Janina Winkler
/wp-content/uploads/docurex_logo_header-300x60.png
Janina Winkler
2017-10-17 10:39:05
2018-09-11 10:29:27
Business Dinner Etiquette: The Dos and Don'ts of Dining with Colleagues