The Basics of the Virtual Deal Room
With the increasing prevalence of the virtual Deal Room as a merger and acquisition tool, there's more of a need to understand the role of Data Rooms in the M&A process. Equally important is the need for those involved in mergers and acquisitions to learn how to set them up properly and maximize their effectiveness. In this guide, potential clients can learn about setting up a virtual deal room for an M&A transaction.
The Role of the Dataroom in Mergers and Acquisitions
A virtual deal room is an online repository where information is stored and accessed through documents. This method of storage and document sharing is designed mainly for mergers, acquisitions, IPOs, due diligence, and other uses involving buyers' and sellers' sensitive information. In the context of M&A, Virtual Data Rooms serve as a placeholder for information related to divisions, units, and companies being acquired. Everyone involved in these Mergers & Acquisitions has access to this sensitive information, while all other parties are excluded.
Virtual Deal Rooms Can Reduce Costs
Maintaining a physical deal room can be costly. Someone must be paid to keep the facility clean and provide security and to print, move, and copy documents. With a virtual Deal Room, costs can be cut because it requires a smaller maintenance crew. In a similar way, moving to and from the physical data room's location can be expensive, especially for remotely located deal rooms. With virtual deal rooms, the expense and hassle are substantially reduced.
Data Rooms Increase Corporate Efficiency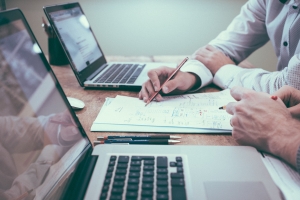 In the traditional M&A environment, obtaining permission to access, view, copy, and print information can take time. It's a tedious and time-consuming process to find the information a client needs in a room full of file cabinets, and the difficulty can be compounded when multiple parties need access to the information at the same time. Because everything is done online in a virtual Deal Room, it's easy to disseminate important information to different parties with just a few clicks. Faster access is one of the main reasons why virtual deal rooms have become increasingly popular.
A virtual room is designed with various security features to ensure controlled access and confidentiality. Only involved parties are allowed to access the data within the deal room, and various clearance levels are maintained. The online environment makes it easier to track and monitor viewing, logging, and other forms of access. The client has complete control over how information is shared.
Convenience and Comfort
Traveling to and from a physical location to retrieve information can be expensive and inconvenient. With a virtual Deal Room, clients can The Basics of the Virtual Deal Room with a stable broadband internet connection. The best data room companies work to protect clients' sensitive data with state of the art technologies.
Trends in Merger and Acquisition Data Rooms
The virtual data room has progressed significantly from its initial incarnation, which was used primarily for legal due diligence. Subsequent updates have added many capabilities to deal rooms, turning them into a medium to conduct an M&A from start to finish. A 2014 report showed that there are over 240 virtual Deal Room providers available, making it a multimillion-dollar revenue stream.
A Variety of Tech-Based Features and Functions
M&A virtual data rooms are becoming more advanced with the inclusion of features geared toward higher-efficiency due diligence. Some examples are:
Dynamic indexing, which is useful when uploading or rearranging out-of-sequence documents.
Flexible file formatting accommodates formats such as Word, JPEG, GIF, PDF, and others. This saves time because it eliminates the need to convert files just for storage purposes.
Question and answer functions, which are useful when buyers need to verify the data room's contents with sellers. Where inquiries over the phone or through email would take time, today's questions can be routed through the data room to save time and money.
Restricted usage, which can keep certain documents under wraps while others can be accessed. Contingent restrictions can be permitted. For instance, one set of users can be allowed to view documents, but not copy or print them.
Setting Up a Virtual Data Room in a Merger or Acquisition
Virtual data rooms can be set up internally or externally. With an internal data room, the seller provides and oversees the room. External rooms are outsourced to third-party providers. Many businesses resort to full or partial outsourcing, and they must compile documents such as:
Financial statements and reports
Corporate books
Employee paperwork
Agreements and contracts
Insurance policies and legal documents
A list of assets
Whether done externally or internally, the steps to set up a data room are the same. For the purposes of this guide, however, assume that the client is hiring an external vendor to manage the storage of important data during a merger or acquisition.
Keeping it Simple
Companies should set up a virtual deal room that suits the purpose, and managers should consider that a user may not have the same level of familiarity with the system. Here, a simple interface can work to everyone's advantage. However, it's important to include useful functions where possible. When companies choose reliable Virtual Deal Room providers, they can be assured that their sensitive information is safe and easily accessible during mergers and acquisitions. By learning more about the process, clients can choose a provider that offers the services and security they need at a reasonable price.
https://www.docurex.com/en/wp-content/uploads/virtual-deal-room-pixabay500x500.jpg
500
500
Claudia Rothenhorst
/wp-content/uploads/docurex_logo_header-300x60.png
Claudia Rothenhorst
2019-01-17 08:15:23
2022-02-02 17:26:04
The Basics of the Virtual Deal Room